It's hard to get something for nothing when it comes to credit cards in Canada. The majority of no-fee credit cards don't net you a lot of rewards, so it can take a long time to build up enough points to use for travel.
There are a few exceptions, however. While you won't get rich off the amount of points you earn with these no-fee travel rewards credit cards, you can still save some money off your next flight. And who doesn't like free money?
As a general rule, no-fee cashback cards and no-fee travel rewards cards are eclipsed by their premium counterparts. In fact, there's only one no-free credit card in Canada that's better than some premium cards – the rest always have lower rewards earning potential.
However, unless you're spending $1,200 or more per month on your credit cards, the annual fee may not be worth it. Why $1,200? Because that's the level of spending where an average return of 1% makes the card pay for itself. Keep in mind that every credit card has bonus categories that accelerate your points earning, but the average cashback hovers between 1 and 2%. So unless you earn more than the annual fee in rewards, it doesn't make any sense.
That's why we put together this list of the best no-fee travel rewards credit cards. For a lot of people, it just doesn't make sense to get a premium travel card – but it also doesn't make sense to leave the points they could earn on the table. Without further ado, let's get to the list!
1.      MBNA Rewards Platinum Plus
2.      Home Trust Preferred Visa
3.      BMO Rewards Mastercard
To start, it has a great signup bonus for a free card. You get 5,000 points after making your first purchase on the card within the first 90 days, and an additional 5,000 points when you enroll in paperless billing (which you should do anyway). 10,000 MBNA rewards points have a value of about $100, so that's $100 for free right off the bat.
You'll earn 2 points per dollar spent on groceries, gas, and restaurants, which are all great categories to have. There's a cap on annual rewards in these categories, though: after $5,000 spent in each of those categories a year, the rewards are cut. So you can earn a maximum of 15,000 points at the accelerated rate of 2 points per dollar, which works out to about $150. On everything else, you'll earn 1 point per dollar.
There's no special insurance or other perks, but that's the norm for no-fee cards.
This isn't strictly speaking a travel rewards card because it offers cashback and not travel points, but it does have a couple travel-specific perks that you can take advantage of.
The first, and most intriguing for a free card, is the lack of a foreign transaction fee. Normally, Canadian credit cards charge an additional 2.5% on transactions made in a foreign currency, including online purchases from American or European websites, as well as any transaction in person while you're travelling abroad.
While this card earns a flat 1% back on all purchases, by using it to make foreign purchases you actually save 2.5%. Add that to the cashback rewards, and you get savings of 3.5% on anything you buy in a foreign currency. This is also one of only two free credit cards in Canada that waive this fee.
Additionally, it comes with a free roadside assistance program. This won't help you while driving in Asia or Europe, but it does cover you in the continental United States and Canada. This makes it the perfect card for budget road trips through America, as you'll also save 2.5% when buying stuff down south.
There are a couple downsides, but they have to do with the usability of the card rather than the rewards structure. The first downside is that this card has a limit of 10 transactions per day. It's the first I've ever heard of a credit card having a limited number of transactions – they typically let you spend however much you want up to your credit limit.
Another downside is the inability to choose or change your PIN. You'll be sent your PIN when you receive your card, but it's assigned for you and can't be changed. If you forget it, the only way to be able to use the card again is to get a whole new card.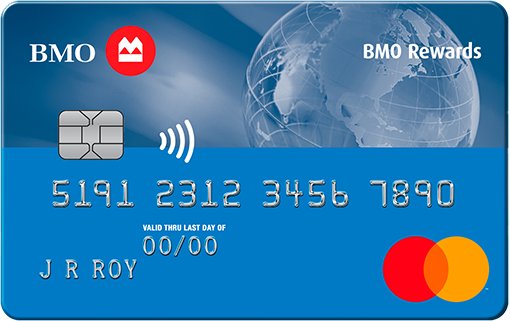 BMO has some really excellent no-fee credit cards, including this one and their SPC Mastercard for students.
It has a generous sign up offer for a free card, even greater than the MBNA Platinum Plus, at 20,000 BMO points when you spend $1,000 in the first 3 months of card ownership. The rewards are broken down as 10,000 points for your first purchase and another 10,000 after spending $1,000. 20,000 points is worth roughly $140, which makes it 40% better than the MBNA sign up bonus.
Outside of the sign up bonus, the BMO Rewards Mastercard doesn't really give you much in the way of rewards. You get 1 point per dollar spent on anything, and 2 points per dollar when you rent a car from National Car Rentals or Alamo Rent A Car. It's nice to have a bonus category at all, but it's not something that you'd use more than a few times a year, if that. The rewards earning potential is outshone by both the MBNA rewards card and the Home Trust card, since BMO points are worth less than 1 cent each, while both those cards earn 1 cent per dollar spent or more.
Canadian personal finance buff and all-around writing enthusiast, Chris loves breaking down complicated money ideas to show that they're really not so complex.